Thanksgiving Messages for Friends: Thanksgiving 2023 is around the corner and there wouldn't be anyone not planning on celebrating this day with their friends. When the aroma of baked turkey and pumpkin pies starts spreading around the corners of our homes, we know it is the day to spend with friends and family.
For spending this day with joy and waves of laughter with your friends, enjoy our Happy Thanksgiving messages for friends. Thanksgiving messages for appreciation will let you thank your friends for being the best part of your life. Moreover, for special treatment to your best friend, Thanksgiving messages for best friends are also in the lot. If you intend to send Thanksgiving cards and wishes to your friends far from you, emotional Thanksgiving messages will help you fill the card with friendly emotions.
Happy Thanksgiving Messages for Friends
Turkey, pie, coffee, and my friends; I have everything for a good Thanksgiving.

My Thanksgiving is nothing without the ones I love, and my friends are on top of it.

Cheers to my friends for making my life enjoyable and peaceful.

As Thanksgiving day starts getting closer, I start craving my friends for the celebration.

No matter wherever you go, always remember that I am with you.

Celebrate this Thanksgiving with a toast to our friendship. Happy Thanksgivings!

Many years of our Thanksgiving celebrations together and still counting.

Distance can not affect our friendship, as we are friends by heart not by presence.

Thanksgiving is more thankful when you have friends around the Thanksgiving dinner table.
Also See: What to Write in a Thanksgiving Card for Family Members
Thanksgiving Messages to Best Friend
Happy Thanksgiving to the best friend ever! May your life be filled with many more blessings.

Thanksgiving always reminds me of our childhood when we used to run around the cozy fire and play with each other all day long.

Dear best friend, May your life be as sweet as your Thanksgiving pumpkin pie.

May your table always be filled with food that never ends.

I wish this year gives you rewards more than your efforts; I wish your blessings never end.

Dear God, I wish eternal happiness to my best friend this Thanksgiving.

Peace and joy fill my heart when I think of you. I am more than lucky to have you in my life.

I am thankful for getting a chance to celebrate another Thanksgiving of my life with my best friend.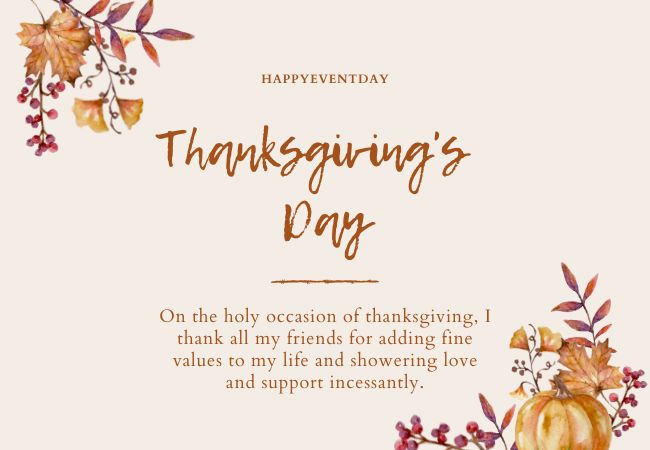 Also See: 25+ Funny Thanksgiving jokes
Emotional Thanksgiving Messages for Appreciation
It is hard to find a person who sticks with you through rainy days. Luckily, I have one such person in my life and I am thankful to God for that.

You are my motivation when I feel gloomy; I am happy to have you by my side.

I am thankful for the food, money, and home I have, but I am more thankful for the sincere friends I have.

You have been with me for so long that I no longer think that you aren't a part of my family now.

More than friends, less than siblings; we are best friends forever.

May all your wishes come true by virtue of this Thanksgiving.

May every drop of rain bring you joy and contentment this Thanksgiving!

Nothing gives me more joy than thinking of you as my best friend; proud and thankful to have a supportive friend like you.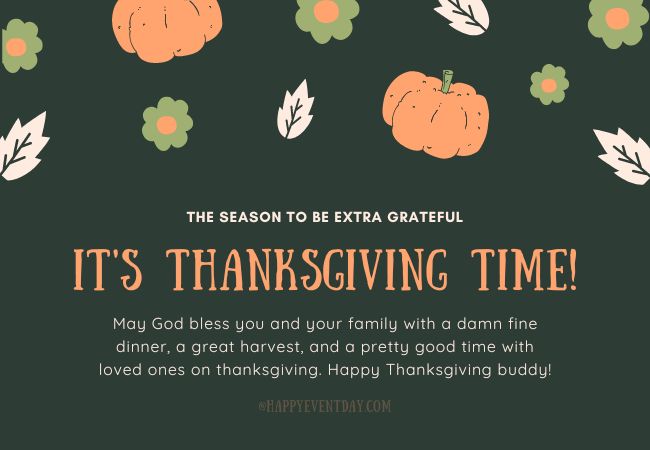 Also See: 50+ Bible Verses About Thanksgiving and Scriptures
What Do You Say to a Friend on Thanksgiving?
Happy Thanksgiving my dear friend. I wish a life full of ease, a heart full of love, and a mind full of peace for you.
What Do You Write in a Thanksgiving Card to a Friend?
Dear friend, no matter whether we are near or far, I will always remember you in my prayers. I wish this Thanksgiving God strengthens our bond further.
Related Articles: