Thanksgiving messages for family members are all here to tell your family how much you love them. Thanksgiving is one of the busiest days of the year; all that chaos of decorating the house, making Thanksgiving dinner, and inviting friends and family can make us forget minor details. Thanksgiving is nothing without reflecting upon the things we are grateful for. And when it comes to being grateful, family is the first thing we are blessed with. So, below are some emotional and heartfelt Thanksgiving messages that you should send to your family members.
There might be a situation when a couple of family members couldn't make it to the Thanksgiving dinner and you miss them. Here Thanksgiving messages and Thanksgiving quotes for family members will do the job of making them feel at home.
Grab your favorite Thanksgiving emotional wishes for your family and make your family feel special.
Happy Thanksgiving To You And Your Family
I am thankful for many things this year, but having a family like this is at the top of all of those.

May this Thanksgiving brings smiles to the faces I love the most in this universe.

I wish to get the same family again even if I am born again.

May all the members sitting around this table always stay united. I wish a Thanksgiving full of love and togetherness to my family.

My heart is filled with gratitude and my eyes with tears to have such amazing family members.

May the warm glow of November's Sun comfort this family with love and joy.

Childhood Thanksgiving could never tell me the importance of family; it is now that I know that Thanksgiving is nothing without seeing your loved ones beside you at one table.

May our blessings be multiplied this year and we prosper as a family.

I hope this dinner brings delights to my mom and day, joys to my siblings, and prosperity to my friends.

Happy Thanksgiving to all the beautiful members sitting in front of me.

I wish I could have a Thanksgiving every week, so I could come home and eat food made by my mother.

Sometimes, things can be hard between us. Sometimes, we could fight and disagree. But between all this, I never stop loving all of you.

This Thanksgiving, I want to thank my Mom and Dad for always doing the best for us.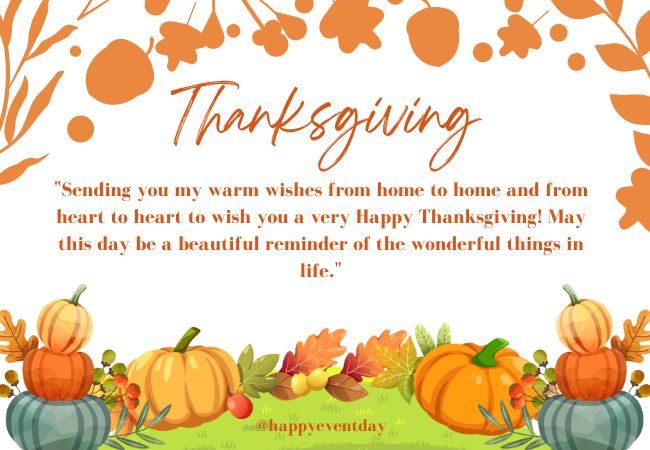 Thanksgiving Wishes to Friends and Family
I wish you a home full of good food, good relations, and plenty of joys to go around.

We all miss your presence around us, especially on this day when we are together to thank God for his blessings upon us.

If I had the power to collect all the joys of this world, I could have gathered them all and gifted them to my family and friends.

When it comes to counting and thanking blessings at Thanksgiving, I always count my family first as it is what I am grateful for the most.

I am grateful for what I have and wishful for what I don't.

When I have friends like you what else do I need to spend a life full of joys and smiles?

From giving birth to us to doing the best for us in everything, you have always done your best. I am lucky to have parents like you.

I wish for nothing but eternal happiness for my parents, eternal success for my siblings, and eternal satisfaction for my grandparents.

Wishing you and your family happy Thanksgiving. May you enjoy and celebrate this day with awesome festivity. May it bring you all the fruit you want!

Wishing you and your family happy Thanksgiving! May you always get the support of your family and May it be always get protected!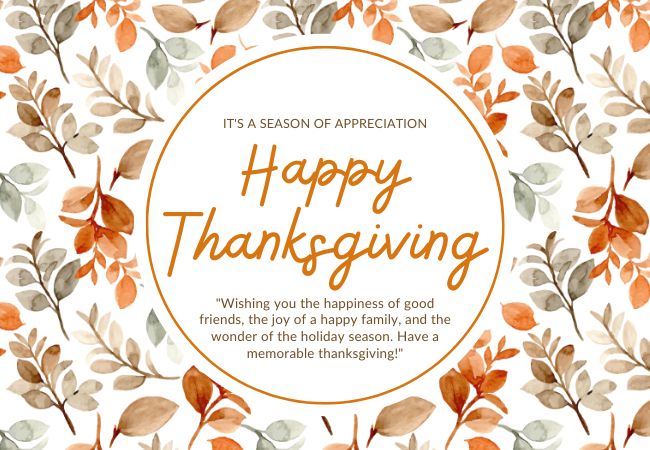 May in the need you always get help! May your family members always be safe and sound! Happy Thanksgiving!

May no shortage of anything you have in your life! May you always see the sparkle of life! Wishing you happy Thanksgiving with all the abundance!

As there is nothing greater than impeccable health and generational wealth, on thanksgiving, I wish for you all lifetime of good health and wealth. Happy thanksgiving to my cranky family!

May you family never go through uncomfortableness ever? Wishing your family happy Thanksgiving!

May your family always be in the rhythm of togetherness! May it never get apart! Wishing everyone happy Thanksgiving!

May your family never break apart! May it always be with the strength and support for each other! Wishing happy Thanksgiving!

Mom and dad, you two are the most profound blessings of my life. I am thankful to god in every way for choosing two of you as my parents. Let's have a marvelous thanksgiving celebration together!

How can I forget my parents on thanksgiving when they are the biggest reason behind every happiness, glitter, and success in my life? Sending warm thanksgiving wishes to the finest parents in the world!

May your parents always love you! May they always be in good health! Wishing them happy Thanksgiving!

May your parents live happily and peacefully! May no evil come to them! Wishing them happy Thanksgiving and respect!

May they have tremendous respect and prestige in their life! May they always be powerful and abundant! Wishing them happy Thanksgiving and love!
How Do You Respond to Happy Thanksgiving to You and Your Family?
Thank you for making me feel so special and loved on this day. I am truly lucky to have a family who adores me this much.
Related Articles: