Mothers Day Thank You Messages: Special thankful Mother's Day messages and wishes are here to celebrate this Mother's Day by giving tribute and gratitude to all the mothers of the world. From giving birth to raising us, our mothers have done everything in their capacities to make our lives the streets ahead. Just like the doings and sacrifices of a mother can not be framed in a single picture, a single day is not enough to say thanks to her.
But we can try our best to tell her how thankful we are for what she is doing for us. Thank your mom by using our thankful appreciation Mother's Day quotes. Send her Thankful Mother's Day quotes, wishes, and messages for making her smile and feel your love. We hope your mom loves the Thank You Mother's Day quotes that you will send.
Thankful Mothers Day Messages & Wishes
Dear Mom, thank you for guiding me when I was lost and showing me the right path. I am blessed to have you as my mother. God bless you mommy!

No matter how hard my life gets, I always know you are here for me. Thank you for standing by me through thick and thin.

You gave me the confidence to be myself; I am what I am just because of you. I am thankful to you for making my life easier than before. Thank you mom and happy mothers day!

Happy Mother's day to the strongest mom on Earth. I am blessed to be the daughter of such an amazing woman.

I shine like a star because you are my Moon. Love you for making my life bright and beautiful. Happy Mothers Day!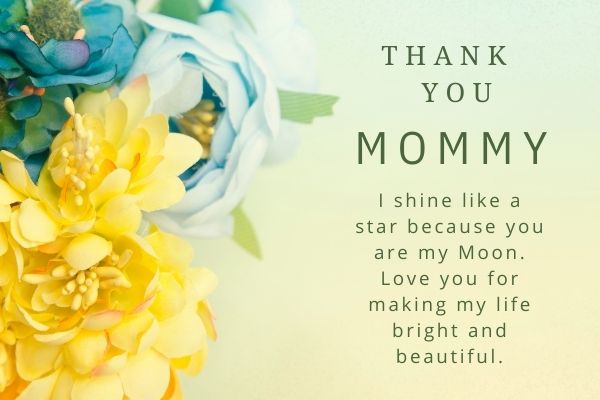 Also See: Mothers Day Quotes 2023
You always gave me the best of care, love, and support. I now realize what it means to have a mom.

If I could gather all the stars and their shine for you, I would have done it to tell you how much I love you.

You became my friend when I needed one, you became my teacher when I needed one, and you became my mentor when I needed motivation; I have no words for thanking you truly. Thank you for all the love and affection and happy mothers day!

I exist because of your tireless care and efforts. Hats off to all the sacrifices you made for me.

Sometimes, when I look at you, I wonder how talent, intelligence, love, care, kindness, support, and sacrifice could co-exist in one soul so nicely like yours.
Also See: Mothers Day Messages 2023
You believed in me when everyone else questioned my abilities. Thank you for making me strong and independent.

Being a mom, you didn't just play the role of a mother. You became everything I needed throughout my life.

I may not be expressive at times, but I love you so much. I fear the time when I would be spending my life without you.

Every time I look into your eyes, I fall in love with you all over as you loved me unconditionally too.

On the day to express love for one's mother, I want to thank you too for raising me as a good and kind human.

I hope I could raise my children just like you raised me.

No matter how old I get, I will always need your guidance, support, and love.

Thank You Mom for surrounding all my sadness with your hug every day. Love you to the Moon and back.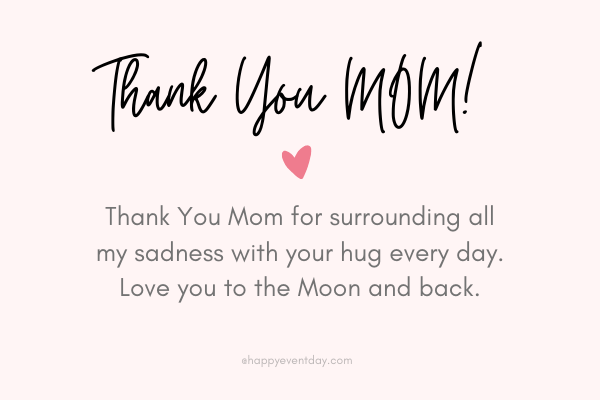 Also See: Happy Mothers Day 2023 GIF
Thank You Mother's Day Quotes | Inspiring Thankful Mother's Day Quotes by Famous Authors
"Motherhood: All love begins and ends there." >> Robert Browning

"God could not be everywhere, and therefore he made mothers.">> Rudyard Kipling

"Sometimes the strength of motherhood is greater than natural laws." >> Barbara Kingsolver

"It may be possible to gild pure gold, but who can make his mother more beautiful?">> Mahatma Gandhi

"It's not easy being a mother. If it were easy, fathers would do it." >> The Golden Girls

"A mother's love is the fuel that enables a normal human being to do the impossible.">> Marion C. Garretty

"A mother is a person who seeing there are only four pieces of pie for five people, promptly announces she never did care for pie.">> Tenneva Jordan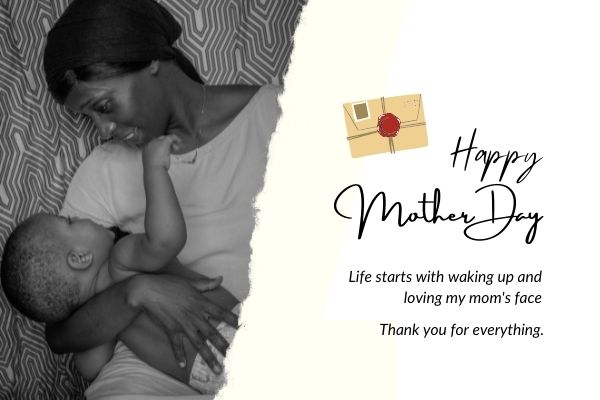 Also See: Happy Mothers Day Images Free Download
"I love my mother as trees love water and sunshine. She helps me grow, prosper, and reach great heights.">> Terry Guillemets

"Mother's love is peace. It need not be acquired, it need not be deserved.">> Erich Fromm

"There will be so many times you feel like you've failed. But in the eyes, heart and mind of your child you are super mom.">> Stephanie Precourt

"To describe my mother would be to write about a hurricane in its perfect power.">> Maya Angelou

"Life began with waking up and loving my mother's face.">> George Eliot

"Being a mother is an attitude, not a biological relation.">> Robert A. Heinlein

"A mother's arms are more comforting than anyone else's.">> Princess Diana

"The heart of a mother is a deep abyss at the bottom of which you will always find forgiveness.">> Honore De Balzac

"All that I am or ever hope to be, I owe to my angel mother.">> Abraham Lincoln

"I realized when you look at your mother, you are looking at the purest love you will ever know.">> Mitch Albom

"Who ran to help me when I fell, And would some pretty story tell, Or kiss the place to make it well? My mother.">> Ann Taylor

"Mothers are the only ones that think nothing is beyond their control when it comes to their children.">> Ali Fazal

"A mother is she who can take the place of all others but whose place no one else can take.">> Cardinal Meylillod

"As far as I'm concerned, there's no job more important on the planet than being a mom.">> Mark Wahlberg
You May Also Checkout: