Happy Mothers Day quotes, wishes, and messages for single mothers: The international day to celebrate the dignity and sacrifices of a mother is about to arrive. Happy Mothers Day is celebrated globally to pay tribute to the countless and endless efforts a mother makes to raise her children. And when it comes to being a single mother, challenges multiply. Single moms are the true heroes of our societies and we should acknowledge their determination.
We want to pay tribute to all the single mothers out there, that's why we have come up with our collection of Mothers Day sayings and wishes for single mothers. We are proud of our single mums so we present them with proud single mother quotes, wishes & messages.
Below are given some inspirational messages for single moms that can boost a single mother's courage.
Mothers Day Quotes for Single Moms
The following lines are dedicated to all lovely single moms who are brave enough to raise a child alone. We have some proud and inspirational messages for single moms and struggling single mother quotes too.
On this day, I want to thank you for all that solace you have been providing me for years. You are my hero.

Dear mother, I want to tell you how lucky I am to have a supportive mother like you. Thank you for always sheltering me.

On the occasion of Mothers Day, all of us wish you more power and confidence.

This day is dedicated to all the mothers who dared to face the challenges of parenthood alone and proved that single mothers are no less than heroes.

We can never count the efforts a single mother makes for her child. We are thankful to all our brave women out there.

A mother always thinks for her child first rather than thinking for herself.

The dignity and value of a mother lie in the care, selflessness, and love she provides to her children.

A single mother is a lot than you can think; she is a teacher, a caretaker, a night shift babysitter, a cook, a driver, a homework helper, and much more. You can never judge the true abilities of a single mom.

If you want to see womanhood at its peak, see all the single mothers who are struggling and still not giving up.

My mom is the bravest of all. I wish to provide her with all she wants as she sacrificed her life just for me.

Just because you are a single mother doesn't mean you can't be successful. Single moms have a lot more potential than any other girl.

Being a single mother is a self-discovering journey; you see your hidden potentials that you haven't seen before.

Dear single mothers, some days you will have no idea how to make things work. But I assure you that you will get through this eventually.

Single mothers are not single women too; they have their beloved children who stay by them always.

If you want to forget all your troubles, give a glance at a single mother's life.

All the respected words and phrases of honor are for our single moms who have proved themselves in every field of the world.

We wish a happy mothers day to all the mothers who didn't lose hope when they were alone. Sending lots of love, honor, and wishes to all of you.

Having a single mother as both your parents is a blessing in disguise; you are doubly bonded to your mother.

Dear mom, on this Mother's Day I wish I could bring all the stars down on Earth, and thank you. I wish you an abundance of health and happiness. I wish you stay forever with me.

My mother has always been lovely to me, now it is time that I provide her with comfort and ease.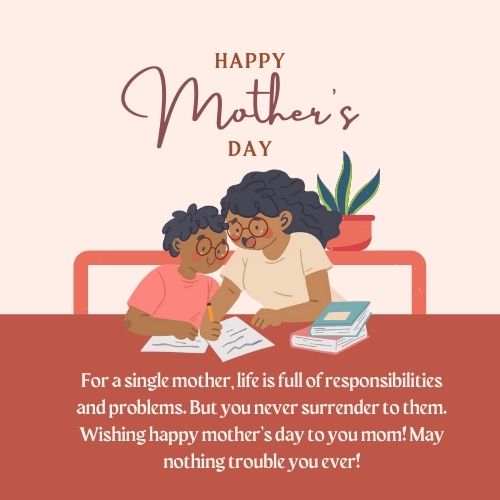 Mother's Day Quotes for Hard-Working Single Mamas
"Being raised by a single mother, I learned to appreciate and value independent women." – Kenny Conley

"Respect to all mums doing double duty because of men failing to do their part as dads." – John Mark Green

"Being a single parent is not a life full of struggles, but a journey for the strong." – Meg Lowrey

"When you are a mother, you are never really alone in your thought. A mother always has to think twice, once for herself and once for her child." – Sophia Loren

"We may encounter many defeats but we must not be defeated." – Maya Angelou

"I would say to any single parent currently feeling the weight of stereotype or stigmatization that I am prouder of my years as a single mother than of any other part of my life." – J.K. Rowling

"I think it's really important for every mother to find their own way." — Solange Knowles

"Gone are the days when you would sit and wait for your knight in shining armor. Be brave, be independent and believe that you can do it, and you can do a better job."– Unknown

"She has to have four arms, four legs, four eyes, two hearts, and double the love. There is nothing single about a single mom." — Mandy Hale

"I am a single mom and I'm the breadwinner and I have to work and I have to do these things and that's just the way it is. I don't think my son even knows any different." – Charisma Carpenter

"I can't tell you how much I respect all the single parents out there doing it solo" – Jennie Finch

"Only mothers can think of the future because they give birth to it in their children."– Maxim Gorky

"A single mom tries when things are hard. She never gives up. She believes in her family, even when things are tough. She knows that above all things, a mother's love is more than enough."– Deniece Williams

"It's not single parenthood in and of itself. It's more about how people parent." – Sophie Zadeh

"Mothers – especially single mothers – are heroic in their efforts to raise our nation's children, but men must also take responsibility for their children and recognize the impact they have on their families' well-being." – Evan Bayh

"I didn't plan on being a single mom, but you have to deal with the cards you are dealt the best way you can." – Tichina Arnold

"Remember that a single mom is just like any other mom and that our number one priority is till our kids. Any parent does whatever it takes for their kids and a single mother is no different." – Paula Miranda

"Nothing you do for children is ever wasted." – Garrison Keillor

"The most difficult part of dating as a single parent is deciding how much risk your own child's heart is worth." – Daniel Pearce

"Better a loving single-parent family than a 'conventional' family where the parents hate each other and the father is a demagogue." – Moby

"I value so many people who have to work full time, definitely single mothers. Their work is the hardest work. I applaud it so much." – Molly Sims

"I don't think you necessarily have to be part of a traditional nuclear family to be a good mother." – Mary Louise Parker

"I want to show the example that you can be a single mother and work and handle a lot of other things at the same time." – Christina Milian

"As a single mom, I'm juggling a lot and working long hours. Yes, it costs them a little, but what my children get in return is a mother who is energized and content." – Edie Falco

"There will be so many times you feel like you failed. But in the eyes, ears, and mind of your child, you are a SUPER MOM." – Stephanie Precourt

"Some days she has no idea how she'll do it. But every single day. It still gets done." – Anonymous
Also See: