Philippines Independence Day is celebrated is on the 12th of June every year. Moreover, it commemorates the freedom of about 7000 separate islands present in the Western Pacific from Spain.
It is about 120 years ago when the Philippines got privileges from Spain's rule. In 1962, President Diosdado Macapagal declared 12 June a public holiday via presidential proclamation. In addition, it was 1898 when not only the Filipino flag waved for the first time. But also the national anthem played along with it. Furthermore, it is probably the 123rd anniversary which will be celebrated on 12th June Sunday.
History of Philippines Independence Day
However, the Philippines was named after King Philip ll. Initially, it was a Spain colony. Ferdinand Magellan came in 1521 to Philippines Island and demanded it for Spain. He ordered all the chiefs to submit all the authorities to him. But Lapu Lapu did not obey his order. In his refusal, Ferdinand Magellan tried his best to destroy Lapu Lapu but all in vain.
Spaniards got hold of the Philippines in 1565.  Moreover Manila became the capital of land in 1571. After that establishment of the feudal system lead to the ownership of the Spanish over large estates. While the Filipinos were the employees. It took many years for freedom. But with the hardworking and continuous struggle, the Philippines get rid of Spain's rule in 1962.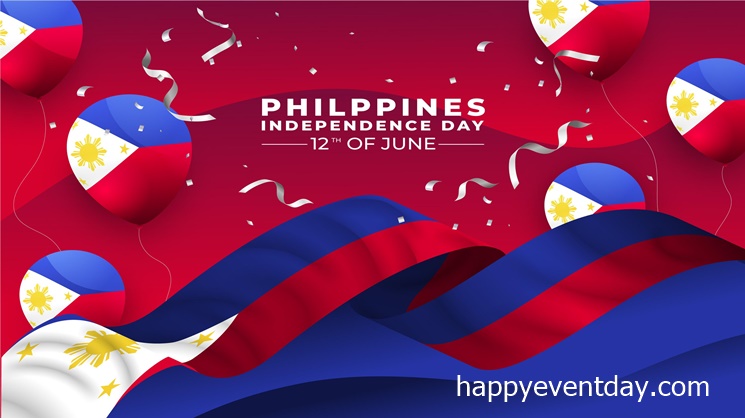 Celebration of Philippines Independence Day
The main event of this day is the Parade. Many people participate in the Parade including students, government employees, and others on this day. Especially the police and military parade in Manila is amazing. This occasion is under the control of the president. In addition a wonderful speech with a 21-gun salute tribute present to the soldiers.
So it is a public holiday. Schools and businesses close on 12 June except for some shopping centers and malls. Although public transport, buses, jeeps, and tricycles run but in limited route. This limitation is due to the parade as many streets are under this superb event.