To the oceans, No matter how far we live, We are connected. On 8 June, World Ocean day has been celebrated since 1992 to express our love towards the importance of oceans in human life and their environment. World Ocean Day.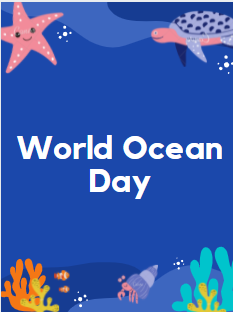 The idea of Ocean day was profounded by Canada's International Centre for Ocean Development and the Ocean Institute of Canada at the Earth Summit – United Nations Conference on Environment and Development in Rio de Janeiro, Brazil. World Ocean Day, back in time was proposed to promote awareness regarding the oceans.
It was to highlight the impact of human existence on the ocean, to develop a worldwide movement for the ocean, and to unite the people around the globe on the fact to encourage the sustainable management of the world's oceans. It was basically vetoed upon the issues to protect and conserve the world's oceans no matter the size.
World Ocean Day 2021 Activities
In today's world increasing global warming has been a threat to nature. And in the process oceans are greatly affected. It causes the ocean temperatures to rise which leads to coral bleaching. Coral Bleaching in the ocean means the lack of breeding grounds for Ocean inhabitants. This will ultimately result in nonexistent rare ocean species.
Oceans are nature's one of greatest blessings. They add to the scenic beauty as well as oceans are the source of seafood. And so we need to sustain it for our future generations to enjoy. Every human being is responsible to make the oceans sustainable. It can be done through various actions;
replacing the use of plastic
making intelligent seafood choices
reducing power consumption
use ocean-friendly products
volunteer for the organization that works for Ocean Development
We are the residents of earth and oceans are the assets that we need to protect and sustain. World Ocean Day is an honor and an opportunity to make an effort and be of use to nature. And it is our responsibility to do so.
Innovate the Ocean Sustainability!